General
Application for new service may be made either in person or by calling J-A-C. A deposit and membership fee shall be required at the time you apply for service. Disconnection of service can also be made by calling or coming by the office.
When making an application for service, all prospective members (hereinafter referred to as the "member") do so under the following terms and conditions:
Member agrees to pay J-A-C Electric Cooperative, Inc. (hereinafter referred to as the "Cooperative") the required membership fee, plus other applicable fees and deposits.
 
Member agrees to comply with Cooperative's Articles of Incorporation and Bylaws and all amendments thereto and by such rules and regulations as may from time to time be adopted by the Board of Directors of Cooperative; provided, however, that applicants shall not become a member of Cooperative until accepted for membership by the Board of Directors.
 
Member agrees to purchase electricity from the Cooperative, at standard rates for the type of service rendered to the member.
 
Member agrees to install all wiring in a safe workmanlike manner subject to the National Electrical Code requirements.
 
Cooperative will make reasonable provision to insure continuity of service; however, it will not be liable for loss or damage caused by unavoidable accidents or acts of nature or member's failure to install safe and adequate wiring and safety devices.
 
Applications and all contracts entered into by members and the Cooperative shall be contingent upon (a) the Cooperative's ability to obtain easements with a normal and reasonable effort excluding condemnation proceedings; (b) acts of any governmental authority or court of law; (c) acts of nature; (d) inability to secure materials and/or labor; (e) any other cause beyond the Cooperative's reasonable control.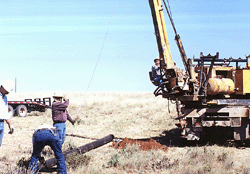 Fees and Deposits
Membership Fee -- $20.00. This fee, paid when service is established, is refunded when the member terminates service.
For deposit requirements, please contact the office at 940-895-3311. We require a deposit equal to 2 times the average monthly bill or a good letter of credit from your current electric provider.
Returned Check Charge -- $20.00.
Collection Charge -- $35.00. This fee is required when J-A-C personnel are required to make a trip to collect or disconnect past due accounts.
Reconnect Charge -- $35.00. This fee is charged to reconnect accounts disconnected for nonpayment during regular working hours.